Solvervs seremoni med Gayatri chanting Onsdag 21.06; Mindfulness, Sitting into Essence, Nærværs Praksis, våren 2023,Mini retreat i påsken: Healing Happens
Solvervs seremoni med
Gayatri chanting
Onsdag 21.06  2023 kl 18.45- ca 2o.15
fb link: https://fb.me/e/VMXOxCwt
Welcome to the Chanting Prayer Meditation:
This Summer solstice is Wednesday 21. June 2023 at 16.57
The Gayatri Mantra is a powerful ancient mantra chanted as a prayer for Enlightenment.
"OM BUHR, BHUVA, SWAHA
OM TAT SAVITUR VARENYAM
BHARGO DEVASYA DHEEMAHI
DHIYO YONAHA PRACHODAYAT"
Welcome, donation based.
For questions:
Messenger, post@energiverkstedet.com or 90078466.
Donation based
Mini retreat i påsken:
Healing Happens  6-10 april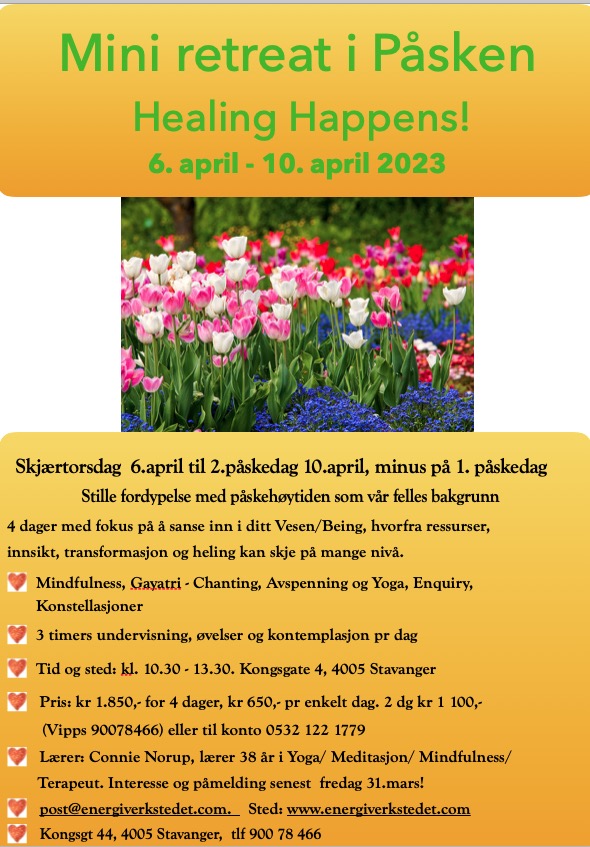 Mindfulness, Sitting into Essence,  Våren 2023
Denne tidløse metode for å forstå sinnet vårt er evig aktuell.
Kl 10.30 -14-00
Pris pr x : kr 850,- kr 550, for stud, arb.ledige, nav etc..
Klippekort kan benyttes, se under individuelle sesjoner.
Påmelding senest torsdag før hver helg!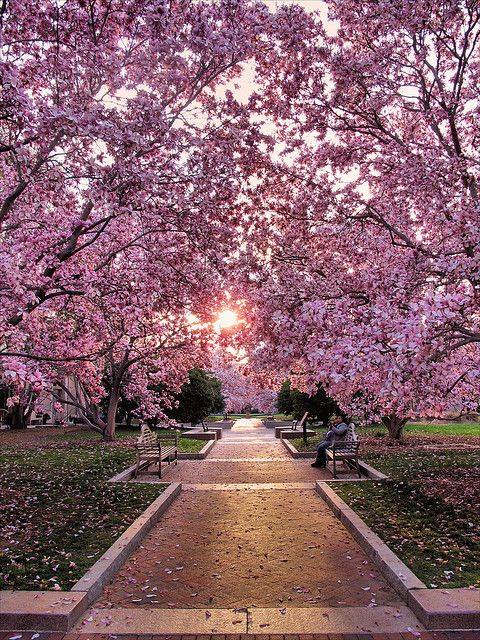 På sms 90078466, eller messenger
Praksis og forståelse av essensielle kvaliteter med fokus på medfølelse og hva som hindrer det i livet.
Meditasjon, øvelser og enquiry.
Minimum 6 deltakere pr møte, maks 12.
                                                                                                                                                                                           
Påmelding senest torsdag før hver helg!
 Lærer:
Connie Hvidberg Norup, Energiverkstedet.
Yoga & Meditasjonlærer i 38 år i Stavanger.
Hvor:
Energiverkstedet, Kongsgaten 44, 4005 Stavanger
post@energiverkstedet.com
tlf 900 78 466
En spennende artikkel om hva som skjer i vår hjerne og dermed våre liv når vi praktiserer.
The Neuroscience of Suffering – And Its End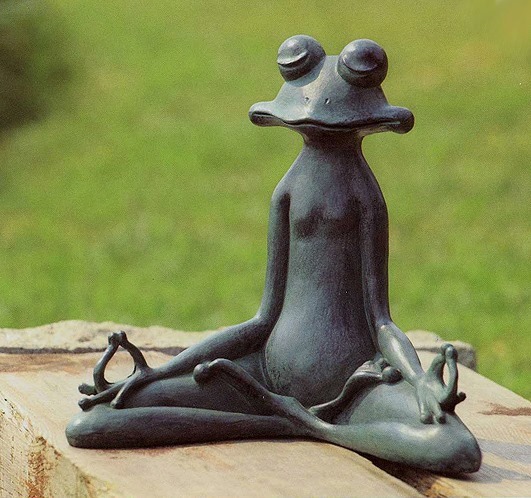 Sted: Energiverkstedet. Kongsgt 44,4005 Stavanger.
Lærer: Connie H. Norup.
Yoga- og meditasjonslærer 29 år i Stavanger.
Sertifisert Familiekonstellatør.
CranioSacralterapeut. Fordypning i Diamond Approach siden 2004.
Nydelig artikkel om mindfulness på en skole i Israel.
For things to reveal themselves to us, we need to be ready to abandon our views about them. — Thich Nhat Han
All praksis over tid gir resultat i form av innsikt i egne tanke-og emosjonelle mønstre,
samt ofte en lindrende effekt på stress, depresjon, fysiske smerter og høgt blodtrykk.
Medfølelse og innsikt gir utviklings-og valgmuligheter ut av innviklinger.
Når bevisstheten løftes for individer, så påvirker det alle dets relasjoner som ringer i vannet.
Styrkelse av Nærværet kan oppleves magisk og hjerteåpnende.
For mer utfyllende informasjon for de forskjellige kursene,
se mer info. om kursene.
Se på kalender for tidspunkt og priser.